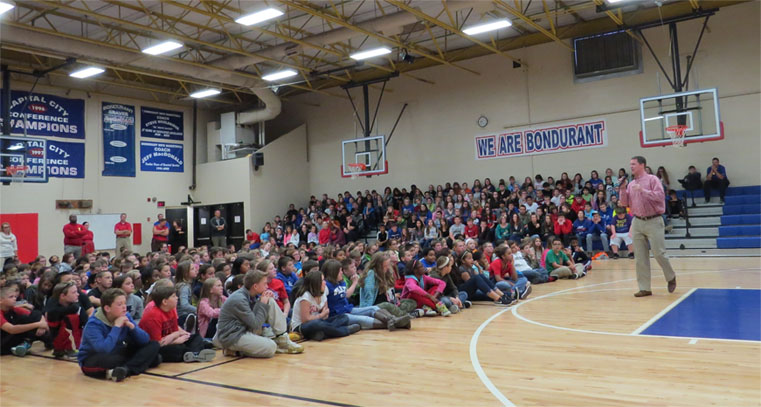 Jerod presenting at Bondurant Middle School.
Jerod Thomas has become one of Kentucky's most influential voices in the fields of alcoholism, drug addiction and recovery.  Sober since June 4, 2008 his personal journey from addiction and homelessness to business executive is heart-breaking and astounding.  Take this journey with him as he treks from sitting in a jail cell to sitting in a board room. Jerod's own harrowing path from college football star and Academic All-American, to drug-addicted, unemployable, homeless panhandler, and then back to successful family man and businessman inspires and motivates audiences.  His firsthand message of hope and redemption encourages listeners how to either choose a different path, or how to change the path they're on, and finally, how to rise up from the canvas when knocked down.  Walk with Jerod as he takes you through his journey of successes and failures, his motivators and his pitfalls, and how he achieves and inspires personal recovery from the inside out. Jerod has spoken in hundreds of classrooms, locker rooms, jail cells, drug courts and other venues in Kentucky and across the United States, modifying his presentations to be age and education-level appropriate for all listeners.
Ready to Book Jerod?
Contact Jerod Thomas to speak at your school, church youth group or sports teams.